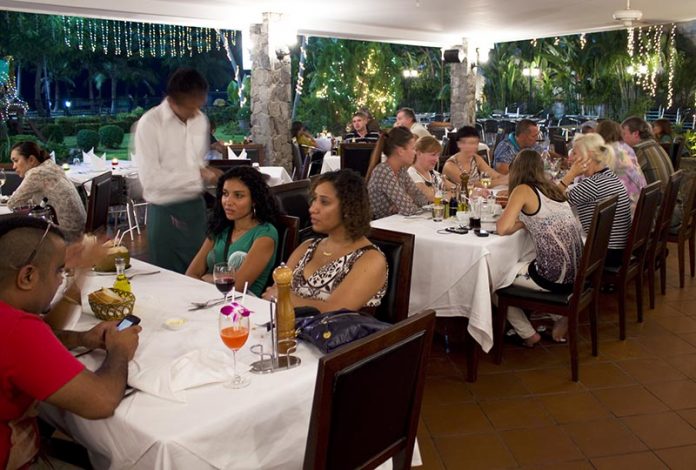 Over the the course of time the Business Supplement has been featuring the many and varied menu offerings produced by the Toscana Italian restaurant on Beach Road, central Pattaya, run by Luca Marchetti, a native of the Tuscany region of Italy.
We have referred to Luca's vegetable and animal farms, which provide much of the produce which appears on the Toscana menu, as well as that of its Thai twin, Moom Talay, run by Luca's wife, as well as the great variety of cheeses and pastas for which Toscana is justifiably noted.
The variety includes the impressive array of cold cuts which can be tasted in Toscana, all of which are prepared on-site. Luca states he has the capacity to produce 300 kilograms of salami every seven to eight days.
There is a mind-boggling 22 different varieties available in Toscana, although, as Luca points out, "In Italy you could find 250 or more since each region has its own varieties and seasonings."
In Toscana the main ingredients of each cold cut vary from pork (which actually will be found in all of the cold cuts), to duck, geese, guinea fowl, goat and wild boar.
While there is a great variety to be had, Luca says, "While I can make a 100 percent salami of goat or guinea fowl, the meat is actually too hard and dry, so all my salami will have some amount of pork included. In a goat or guinea fowl salami the amount of pork might be as much as 30 or 40 percent."
The preparation time for each variety of salami can vary quite markedly, some can take three weeks to prepare properly, while others may be as long as a year or more. Depending on the time of year, the time for curing and the seasonings (chili, bay leaves, wine, fennel, coriander and the like), each salami will have a distinctive taste.
"You are eating here what the animal eats," says Luca. "If the animal eats good food, then you eat well also. I don't need to sell what I produce outside, so I don't have to put anywhere near the preservative you see outside. In fact, I only put in enough preservative to be on the safe side; I don't want to take the chance of someone getting sick."
Prices will naturally vary depending on whether someone is looking to order just a pork salami or guinea fowl, for example. The latter would be more expensive simply because, as Luca notes, "After all, the guinea fowl is a bird. How much meat can you get from a bird?"
Away from Toscana, Luca's cold room at his animal farm in Huay Yai, gives him more room so produce salami that has taken a long time, a natural time, to cure.
For example, he may take a 25-kilogram pig leg, prepare it in, say, April, and let it cure until around October or even later. For connoisseurs this would raise Toscana well and truly beyond what anyone else has to offer in Pattaya in terms of salami.