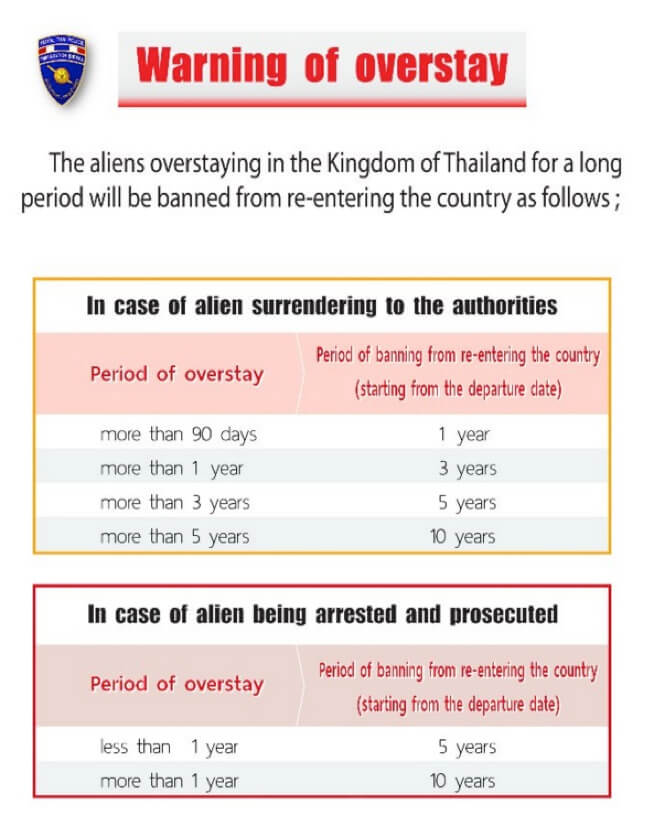 Deportation is the lawful expulsion from a country of a foreign national or a group of foreign nationals whose presence is unlawful or prejudicial.
What is the difference between Deportation and Blacklisting? Blacklisting means that aside from expulsion, you are also barred from visiting Thailand for the rest of your life.  Deportation has a shorter effective period than blacklisting; you can go back to Thailand after the expiration or withdrawal of the deportation order.
In case there is an order of deportation, the competent official may order the foreigner to stay at any prescribed place or he may order the alien to report to him according to a prescribed date, time, and place with Security or with Security and Bond while waiting for the foreigner to be deported. The competent official may also detain the foreigner at any given place as necessary.
The most common reason for deportation is overstaying one's visa.  Other reasons include the following:
The foreigner is deemed a threat to national security.
The foreigner is a fugitive or an individual who is on the run from the law.
The foreigner has insufficient documentation or authorization for traveling to Thailand.
Overstaying is the act of staying in Thailand beyond the given period of permission to stay on your visa.  It is your sole responsibility to leave Thailand or extend your visa.
If a local police office catches you with an overstayed visa, you will be transported to Bangkok for processing and charge you with overstay.  Immigration may hold you for 48 hours for investigation and may be extended to 7 days, if needed. The court must approve any detention longer than 7 days. Therefore, you are more likely to appear before a judge within 7 days after being arrested.
The court will then issue a court order to deport.  Once you have a tentative date of repatriation, you or your representative will have to arrange to get a ticket to leave Thailand and return to your country. You will also need to settle the fee for your transportation to the airport.
The expense of deportation shall be charged to the owner or person in charge of the conveyance, which brought the foreigner into the Kingdom. If there appears to be no owner or person in charge of the conveyance, the foreigner committing the act will have to pay the expense of deportation.
In the airport, you shall be accompanied by a police officer who holds your passport, check you in and accompany you through immigration up to the airplane 15 minutes before your flight.
You should try to resolve this problem as soon as possible if you find yourself overstaying.  It is best to report to the Thai immigration office and explain your situation, pay the appropriate fines and face the consequences.