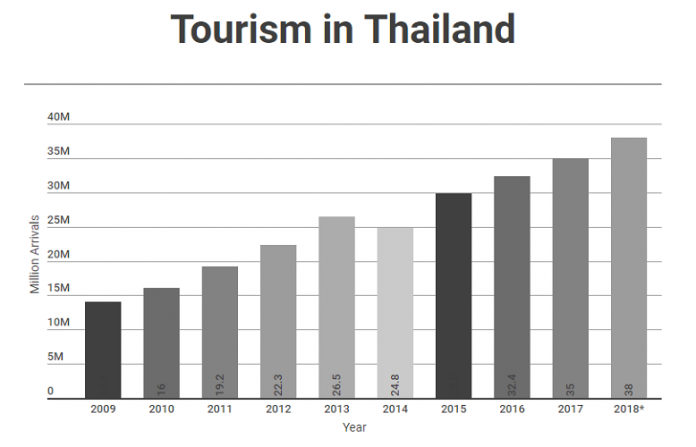 The importance of tourism into Thailand was recently further emphasised when the Mastercard Global Destination Cities Index (GDCI) placed Bangkok as the number one destination city for international overnight visitors for 2017. The Thai capital had previously been ranked number one in 2016 and 2015. The GDCI has only been extant for six years and Bangkok has now snared the top position in five of those six years.
Significantly, the GDCI also ranked two other Thai destinations, namely Phuket and Pattaya, among its top 20, meaning Thailand is the only country with three places in the top 20. Phuket ranked 12th while Pattaya came in at 18th. Phuket entered the top 10 destination cities by money spent. For both Phuket and Pattaya it was their first time to be included in the index.
Bangkok saw an amazing 20.05 million visitors in 2017 which was just above the 19.83 million visitors to London in the same year. By further comparison, the other cities in the top 10 were Paris with 17.44 million overnight visitors, Dubai (15.79 million), Singapore (13.91 million), New York (13.13 million), Kuala Lumpur (12.58 million), Tokyo (11.93 million), Istanbul (10.7 million) and Seoul (9.54 million).
It will be no surprise that for Bangkok the top three feeder countries were China, Japan and South Korea, a situation which was the same in 2016 and is likely to remain this way for some time to come.
Notably, the average spend per day in Bangkok during 2017 was US$173, which is far lower than Dubai ($537), Paris ($301) and Singapore ($286). Nonetheless, the capacity for Bangkok to remain as a relatively cheap destination should help in continuing to attract plenty of visitors.
The GDCI expects 2018 will be very similar to last year and cites the emergence of both Phuket and Pattaya into the top 20 as signs of solid infrastructure, combined with a good mix of business and leisure attractions, are all helping to keep Bangkok and Thailand at the forefront of travellers' minds.
As long as the Tourism and Sports Ministry, the Tourism Authority of Thailand and the Bangkok Metropolitan Administration as well as other government agencies continue to work together to keep tourism as a key plank in the country's economic mix then there is no reason it cannot maintain its pre-eminent position for some time to come.
The Tourism and Sports Ministry expects 2018 will see between 37 and 38 million visitors into Thailand with an expectation of around two trillion baht in revenue. By the end of August this year the official numbers stood at 25.88 million visitors, a 9.88 percent increase over the same time frame in 2017. They had spent 1.35 trillion baht, which represents a 12.9 percent increase year-on-year.