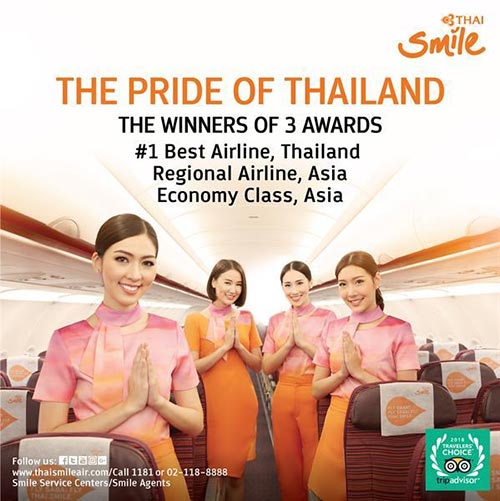 Travel and Lifestyle Press Releases Wednesday April 25, 2018 09:36
Bangkok–25 Apr–idea works communications
THAI Smile won a Travellers' Choice, Regional Airline in Asia award and Economy Class in Asia for the second consecutive year, as well as the best airline in Asia award, according to passenger reviews in 2018 from TripAdvisor, a famous travel website with over 350 million users worldwide. This raises Thailand's profile abroad and shines a spotlight on the leading full-service airline. THAI Smile will continue to develop its world-class service so as to meet the needs of travelers and create a positive impression with passengers.
Mr Chatchai Panyoo, Acting Chief Executive Officer, THAI Smile Airways Co Ltd, revealed that the prize from 2018 TripAdvisor Traveler's Choice Awards has reflected the readiness to compete in the region and is a testament to the hard work and dedication of employees through their heartfelt service which is the concept and value of the organization. THAI Smile also strives to provide the best experience for customers in every touch point and create a superior travel experience for clients in every flight.
"Best Airline in Thailand and Winner of Regional Airline in Asia are the awards we have received for the second consecutive year. We are proud of it and this award is a reflection from our customers who have used our service. It can guarantee the success of THAI Smile that focuses on providing excellent service coupled with the value for money. The cleanliness of the cabin can substantially meet the needs of our customers. This year, we have also won the award for the Winner of Economy Class Airline in Asia for the first time. It is a proven record to the significant marketing position as a full-service airline that is ready for delivering full services and offers maximum comfort to all passengers, especially for serving foods and drinks on board," Mr. Chatchai said.
TripAdvisor is a well-known online travel website that gives members and travelers around the world the opportunity to share their experiences and to rate their favorite airlines around the globe. The ratings are both quantitative and qualitative throughout the period of 12-months. The scores indicate the prominence of both quality of service and worthiness the customers' favor.