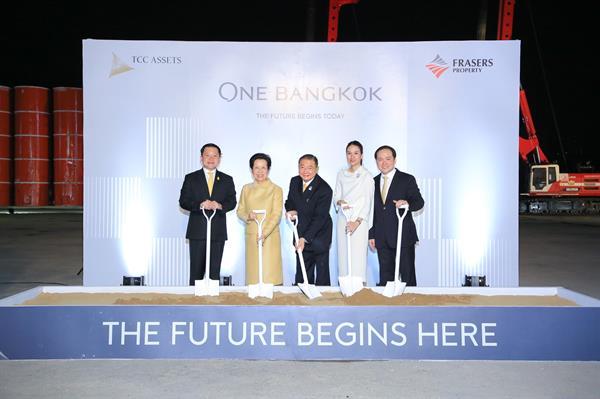 Real Estate Press Releases Thursday March 8, 2018 15:32
Bangkok–8 Mar–Hill+Knowlton Strategies
TCC Assets Company Limited and Frasers Property Limited recently celebrated the start of construction of One Bangkok with a groundbreaking ceremony, marking the first major milestone for Thailand's largest integrated district. The project has received Environmental Impact Assessment (EIA) approval, enabling the THB 120 billion (US$3.5 billion) development to begin. Mr. Charoen Sirivadhanabhakdi, Chairman of TCC Group and Frasers Property, and Dr. Chirayu Isarangkun Na Ayuthaya, Director General of the Crown Property Bureau, presided over the ceremony, joined by Directors, Senior Executives and key stakeholders.
Speaking at the ceremony, Mr. Panote Sirivadhanabhakdi, Group CEO of Frasers Property said, "Today is groundbreaking in every sense; as we commence construction on One Bangkok, we also begin an exciting new chapter in Thailand's development. Our ambition is to transform the Bangkok city centre, creating a world-class district capable of attracting top-level multinational companies and a must-visit lifestyle destination for tourists and locals. This will enhance global confidence in Thailand as the epicentre of ASEAN, and a key gateway to Asia. As a group, we are honoured to have been entrusted by the Crown Property Bureau to turn this important plot of land into a landmark development, and we are committed to ensuring that One Bangkok will be exceptional not only for its scale, but also for its significance to Bangkok and Thailand."
Ms. Su Lin Soon, CEO-Development of One Bangkok commented, "From the start, our focus is ensuring that this development is shaped with utmost care for the city, the environment and people. Thus, One Bangkok has the core principles of being people-centric, embracing green sustainability and with smart-city-living firmly in mind. It is the first development in Thailand to target LEED* Neighborhood Development Platinum certification. Shaped by a multidisciplinary team of international and local consultants, engineers and sustainability experts, we are aiming to foster a strong sense of community and to promote well-being in an urban environment, capturing the energy and vitality of Bangkok's streets interspersed with green open spaces to encourage walkability. Accessible and inclusive for all, One Bangkok will revolutionise the way people can seamlessly live, work, and play within a single fully-integrated district."
"Our masterplan has already been recognised, winning the Best Futura Project award at MIPIM Asia Summit, the region's leading real estate conference held in Hong Kong in November 2017," she added.
The joint venture between TCC Assets and Frasers Property will cover 104-rai (16.7 hectares) in prime central Bangkok. Located at the corner of Wireless Road and Rama IV Road, adjacent to Lumphini Park, it will feature unsurpassed accessibility through direct connections to the city's mass transit systems and easy access to the expressway network. With a total gross floor area (GFA) of 1.83 million sq. m., One Bangkok is the largest private sector property development initiative ever undertaken in Thailand, comprising five premium Grade A office towers built to LEED* and WELL** standards; five luxury and lifestyle hotels; three ultra-luxury residential towers; four distinctive retail zones; and a cultural hub and performance centre. Additionally, 50 rai (eight hectares) will create green areas and open spaces, including 40-metre wide landscaped green promenade along both Wireless Road and Rama IV Road, as well as a 10,000 square metre landscaped civic plaza at the heart of the district, forming a new urban centre for social life.
Construction for One Bangkok has now commenced with the first components opening in 2022.
LEED: Leadership in Energy and Environmental Design (LEED) is a rating system devised by the United States Green Building Council (USGBC) to evaluate the environmental performance of a building and encourage market transformation towards sustainable design.
WELL: WELL Building Standard is the premier standard for buildings, interior spaces and communities seeking to implement, validate and measure features that support and advance human health and wellness, devised by buildings from the International WELL Building Institute based in Washington D.C.
Invalid Domain Name