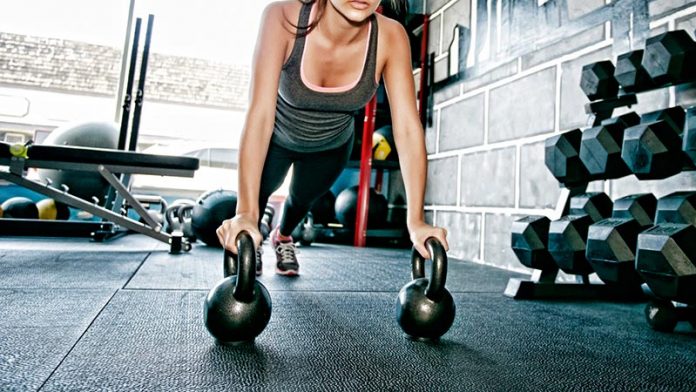 Last month we were going through options for fitness in small areas, this month we continue our list and start with…..
Hand Weights
These are the most versatile pieces of equipment. They are suitable for both strength and cardio training. With the help of a dumbbell set, you can train all your muscle groups. Do squats for your legs, presses for your chest and shoulders, or extension for your triceps. There are numerous dumbbell exercises out there. You can buy traditional ones however the best buy is the adjustable dumbbells since you can increase or decrease the resistance by removing or adding plates. So, they provide more possibilities to perform various exercises with different weights. Also, they are compact and come with trays for storing.
Stability Ball (or Fit Ball)
A stability ball is a cheap but extremely versatile fitness equipment that you can use in your room. What makes it so useful is that performing the exercises are more difficult since you have to keep your balance and the stability of your body. This way, more muscles are engaged, especially your core muscles. For example, if you do the push-ups by placing your legs on ball, it is much harder to press yourself up. Sitting on the ball is also great for your spine as there is less pressure against your lower spine. Combine the stability ball with a pair of dumbbells and you are good to go.
Bosu Ball
This rather small fitness equipment is a must have for balance training. As you see, it looks like a half stability ball installed on a stable basement, but it can be used at an upside-down position as well. It is an excellent tool to make traditional exercises more challenging for example, squats and pushes ups. Bosu is especially beneficial for plyometric exercises.
Variable Resistance Stationary Bicycle
A variable resistance stationary bicycle will assist you in meeting cardiovascular exercise goals in a small space. Stationary bicycles can be purchased with only one wheel, making it even more suitable for small spaces. Variable resistance allows for increased resistance and demand on your cardiovascular system as you become more fit.
Folding Treadmill
Running is the king of cardio activities. The treadmill is one of the best home exercise equipment you can have at home. The problem is that the professional treadmills are rather big and expensive. On the other hand, some treadmills are manufactured for small spaces. They come with a shorter running area and can be folded. Of, course they do not provide such excellent user experience as the pro models, but they are still useful. It lets you have walking or jogging workouts to burn calories while you watch TV, for example and then when finished, they simply fold up and can be pushed out of the way.
Suspension Trainer
If you are a bit interested in fitness, you have heard about TRX. It is a small space exercise equipment that can be installed on the door and gives you numerous possibilities to train your body at home by performing various exercises by simply using your bodyweight and the resistance. For example, you can make single leg squat for your lower body or chest presses for your upper body. The TRX is the best choice for sure, but there are other products at lower prices.
Floor Mats
Yoga Mat/Stretching Mats. Even if you don't do yoga at home, having a yoga mat is pretty important. It gives extra cushioning and also helps you from sliding around too much if you're on tile or carpet flooring. There are millions to choose from, however the better quality the rubber, the longer it will last and not simply disintegrate!!
Seara Sports are able to meet all of your fitness needs no matter how big or how small your area is. Combined with the current end of year sale on going until the 15th of January 2018 you will be sure to find something that meets both your needs and your budget.