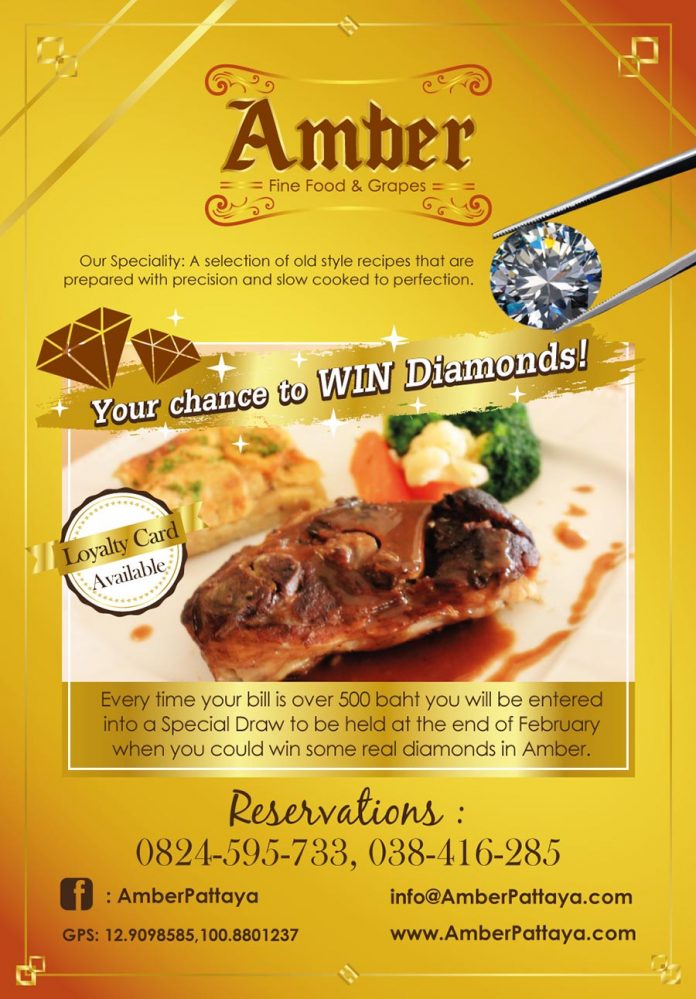 The Amber Fine Food & Grapes restaurant and brasserie only opened for business at the start of November but its management are already looking for ways to attract a regular clientele who appreciate the dishes they have to offer.
In what must be a real first for an eatery in Pattaya, patrons whose bill comes to 500 baht or more will be entered into a special raffle over January and February in which the grand prize is a set of diamonds.
Patrons are not restricted to the number of times they may be entered in the prize draw, which will take place at the end of February. Basically, if you like the food, as the Amber Fine Food & Grape management think you will, then you'll be back time and again, and as long as your bill exceeds 500 baht each time you'll be entered into the draw.
The restaurant recently added a new dish to its extensive European menu: pork, osso bucco style in an Orval Belgium beer sauce, for just 395 baht.
Among the dishes which will start the Amber experience will be a Carrot/Orange Veloute' with smoked duck breast and a Halibut papillote.
High grade marble Australian beef will be used in any of the beef dishes, thereby making sure of quality.
The team at Amber will be developing their menu over time, changing it frequently and adjusting to suggestions from customers.
Another key factor in the Amber universe is to offer a great selection of wines, with a minimum of 10 wines priced at less than 1,000 baht a bottle.
Amber will also introduce a loyalty program which will offer great discounts of up to 30 percent for customers in wine and food purchases as well as homemade chocolate and other items which can be taken away from the premises and enjoyed in the comfort of your own home.
A highlight each month will be a wine and food tasting event.
It's pretty clear Amber Fine Food & Grapes is trying to hit the ground running as it were, aiming to make a serious mark on the Pattaya cuisine map
Amber is situated in Soi 8, off Thepprasit Road in Jomtien, and is one of the more exotically designed eateries in Pattaya. It's the type of place which makes you want to come in and try the menu, whether it's the French headline dishes or the other styles of 'comfort' food from around the world.