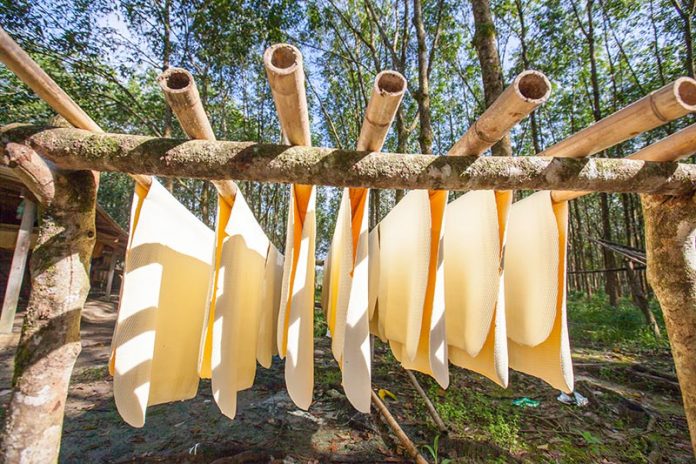 In what is viewed as a significant boost to the economy, the Commerce Ministry released figures which showed that exports had risen to their highest level in more than four years, reaching 676 billion baht, a boost of 13.2 percent year-on-year.
The numbers were especially good in May, totalling the equivalent of US$17.6 billion. This is not necessarily such a significant result given that the May 2016 numbers were so low. Nonetheless, it does reflect a greater improvement for the Thai export market compared with just 12 months ago.
The top 10 items for export in May this year were automobiles and parts followed by computers and parts, rubber products, plastic products, electronic circuits, chemical products, gems and jewellery, machines and parts, rubber sheets and petrol.
Notably, the year-on-year growth rates between January and May show that rubber sheets are up a massive 63.6 percent, followed by rubber products (up by 58.8 percent) and petrol by 37.8 percent.
The only negatives were experienced by automobiles and parts, lagging by just 0.6 percent and gems and jewellery by 0.5 percent. In reality, these two export items are virtually flat-lining, although exporters within these industries would be concerned at the potential long-term trend.
The Thai National Shippers' Council was quoted as saying they expected June exports to rise even further, continuing the resurgence in the Thai exports trade.
For the first five months of the year the total return was up by 7.2 percent to US$93.26 billion while imports jumped by 15.2 percent to US$88.21 billion. This gave Thailand a very decent terms of trade surplus of US$5.05 billion for the period.
Looking a little closer at the numbers, shipments to Japan and the European Union surged by 25.7 and 13.3 percent respectively while exports to the United States jumped by a fair 8.8 percent.
Where the real long-term potential jumps have come is within the local region, which is especially good for reducing costs in terms of travel times. Exports to South Asia rose by 18 percent while AEC/Asean neighbours Myanmar, Laos, Cambodia and Vietnam collectively increased by 14.3 percent. Basically, as these areas continue to experience stronger economic growth, Thai exports should do very well.
The Ministry of Commerce is maintaining its expected five percent export target for 2017 despite the appreciation of the baht, especially against the US dollar as well as other high-profile currencies. The Commerce Ministry notes that the global economy is continuing to recover, thereby helping to push export demand higher.