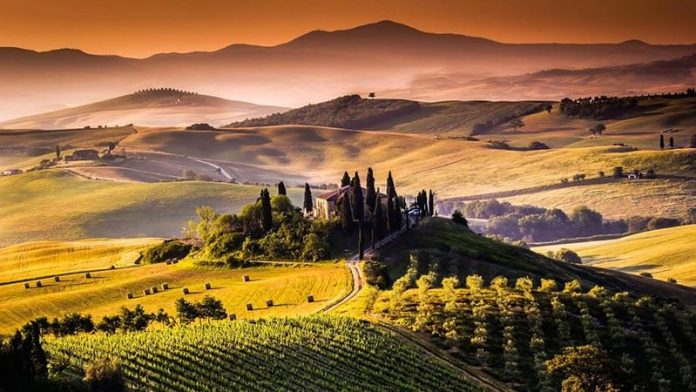 The Tuscany region of Italy is notable for its breathtaking scenery, the Leaning Tower of Pisa, and sensational cuisine. As one web page notes, 'Tuscan cuisine [is] based on simple ingredients [but] is made of elaborate dishes capable of winning new admirers. The choice of high quality ingredients is an essential part of the Tuscan culinary tradition…'
The Toscana Italian restaurant, located right on Beach Road in central Pattaya, operates with two very clear competitive advantages.
The first, in a sense, is obvious. The location, location, location, as the real estate mantra would have it. Being able to sit inside a well-appointed and spacious air-conditioned eatery and look out at the ocean, be it during the day or at night, is always going to be a positive factor. Being able to sit outside, should you so desire, and enjoy the same ambience can only add further to the ambience.
The second competitive advantage enjoyed by Toscana, and its sister, the Moom Talay Thai restaurant, is that the vast majority of food comes fresh from two farms run by owner Luca Marchetti. One is a farm dedicated to growing the freshest organic vegetables available anywhere in Pattaya. A second farm features a wide range of livestock, from chickens and quail to goats and wild boar, all raised in a natural environment and overseen by the keen eye of Tuscany-born and raised Luca, a man very much in touch with the roots of Tuscan cuisine.
While the Toscana Italian and Moom Talay Thai restaurants share the same very large space, there are two points where the two are strictly separated. The first is perhaps the most obvious, in that the two restaurants have two separate kitchens. This is clearly sensible given the different styles of cooking and variety of dishes required. The second is also equally sensible, in that while there is a central area where either Italian and/or Thai dishes can be served to patrons, there is one completely enclosed area where only Italian dishes will be served.
The management of Toscana understands that mixing the two culinary styles is not always in the best interests of those who want to enjoy the flavours and, more especially, the aromas of authentic Italian cooking. So, the Toscana Italian food only side of the restaurant has seating for up to 100 diners, all enclosed in an air-conditioned environment. The tables are set up with tablecloths and the atmosphere is designed primarily to promote fine Italian dining and enhance the largely organic offerings of pizza and pasta dishes for which Toscana is justly well-known.
On the outside terrace, there is also room for around another 150 diners. These are distinguished by having white tablecloths covering each table. The spacious layout gives customers a more relaxed dining experience.

Luca notes, "We make fresh pasta here, almost every day, and all the pasta is made from duck eggs, which are so much better than using chicken eggs." Apart from using duck eggs, Luca also points to another key aspect of differentiation, "What I won't do, and never have, is pre-cook the pasta. Everything is fresh."
Where Toscana and Moom Talay do meet is right in the centre of the spacious restaurant complex in what might be described as an almost taverna-like layout of broad wooden tables atop rustic tiles. Diners can order both Italian and Thai dishes and mix and match as they see fit. It's akin to a kind of Italo-Thai fusion set in an atmosphere unmistakably Italian.