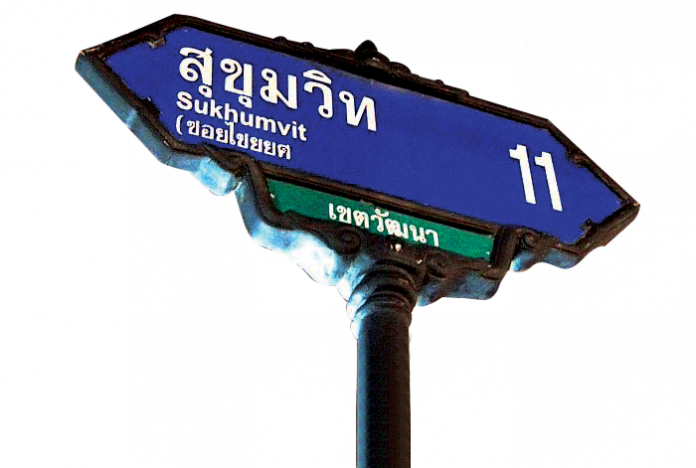 Lots going on this month with most of our attention centered on Soi 11. We know that this soi gets a lot of attention but that's because there's been a lot happening here lately. First, the Hyde condo building is now being joined by a sister building that's abutting right up to the sidewalk. The first building, which we assumed was the only building going onto this large lot, is now up to 30 stories or so and the new building, which we're assuming is a second residence tower, is only a few stories so far. If memory serves, there's supposed to be about 400 units so maybe some of them are going into building number 2. It looks like there's a lot more construction to go here.
And probably just before the Hyde project is finished the construction on the old Cheap Charlies location will have started. It's been almost two months since the businesses here all closed, with the exception of the Thai restaurant at the end of the property that's owned by the family that owns the land, and nothing has happened at the site yet. So it's been slow going so far. And it's also been slow going on at another Hyde site, this one on the corner of Soi 13. It's been close to at least five years now and this building isn't even close to being finished and there seems to be delays in the construction every few months or so.
As for new places on Soi 11 there are plenty and at least a couple more are on the way judging by the looks of things. First, the location of the now closed Wolff's, has now been combined with the shophouse next door that was a third of the Apotheka frontage to provide a space for a soon to open place called Brasserie Cordonnier. We're not sure what the concept is going to be but the people behind it also do Charcoal and Above Eleven.
Another place is Mullis Sports Bar that's in the same location that used to house Mulligan's Irish Pub. Everything seems to be same except for the name. Farther up the street on the same side of the soi (left, heading towards Sukhumvit Road) stands the new incarnation of El Gaucho Steakhouse.
Then there's Alex Brasserie a bit farther along in the old Man U sports pub spot. They too have reached deep into their wallet to produce a large, well-designed palace that definitely has a brasserie menu with prices that are a bit higher than you would expect in a normal brasserie. And right after them comes 8 On Eleven, an Indian-themed nightclub/restaurant that's located on the ground floor of the Grand President. So there are now plenty of new places to check out on this bustling soi.