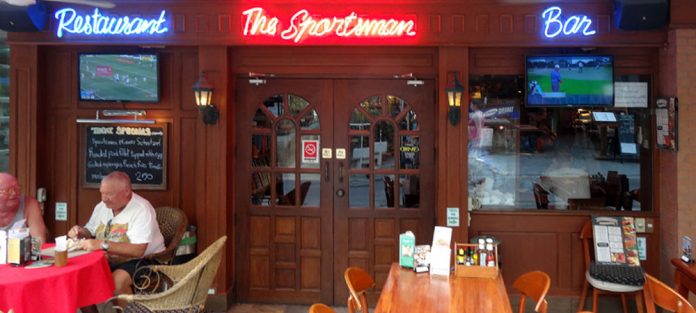 The famous Sportsman Pub and Restaurant located in Soi 13, between Beach Road and Second Road, is one of the longest-running British-style bar-restaurants in Pattaya. So much so that it recently celebrated its 20th Anniversary with a great party at the premises. The party was a huge success with a live band, lots of mouth-watering snacks dished out all night, a great atmosphere and a full house. People who dressed up in a "lairy shirt" were in a special draw for the most outrageous shirt of the evening. There was also several spot prize draws during the evening.

Among the myriad of reasons for the Sportsman's long running success are food quality and portion sizes, staff attentiveness, hands-on management, and ambience.
The Sportsman is rated in the top 15 out of 810 restaurants in Pattaya by Trip Advisor (as at the time of print), a high ranking in anybody's language. The place has gained strength and popularity ever since it first opened in 1997.
Consistency is another reason for its success. For example you can order a British favourite like roast beef with roast potatoes and Yorkshire puddings on any day of the week, knowing that it will always be top notch fare. As well as that, portion sizes are generous.
There are three key days that feature meal specials. On Wednesdays the daily special is a burger and chips, with a San Miguel for just 195 baht, available all day and all night.
On Fridays the food special is an all-you-can-eat pizza, pasta, salad buffet, available between 6:00 and 10:00pm, for just 249 baht per customer.
On Sundays, what else would be fitting than an all-you-can-eat carvery. This long running traditional special still remains and is leanly priced at 425 baht, available between 12:30pm and 8:30pm. The carvery is often rated among the best in Pattaya. There are always two soups, five roast joints, a special steak and kidney pie, Yorkshire pudding, and all the other elements that one would expect of a proper British carvery.
On the other four days the pub promotes drink specials. On Mondays the special features pints of Heineken at 99 baht, all day and all night; Tuesdays are pints of Guinness at just 170 baht, again, all day and all night; Thursday's special is Tiger Draught pints for 99 baht and on Saturdays the special is pints of Thatchers Gold draught cider at 160 baht.
Thursday also sees The Sportsman weekly free-entry quiz starting at around 9:00pm. There is a free (Bowmans) pie and chips for all contestants at the end of the fun quiz, and a rollover jackpot question. Everyone is welcome, and you can either set up your own team, or join in with another group.
There is a good quality pool table and seven large wall-mounted TVs located in good viewing locations showing all sports as well as news channels.
The Sportsman has served traditional, hand-made meat and fruit pies since they first opened. Using only the best ingredients, their so-called Bowmans Pies have proved extremely popular. So much so, Bowmans Pies was established as a separate entity to promote and distribute this quality product to supermarkets around Pattaya and into other parts of Thailand.
For non-alcoholic drinks, the Sportsman has introduced both 80-baht milkshakes, and protein shakes in vanilla, strawberry and chocolate flavours for just 99 baht.
The Sportsman also started and continues to operate the Door to Door home delivery service, thereby offering its best meals to customers who would like to partake at home, or at their hotel.