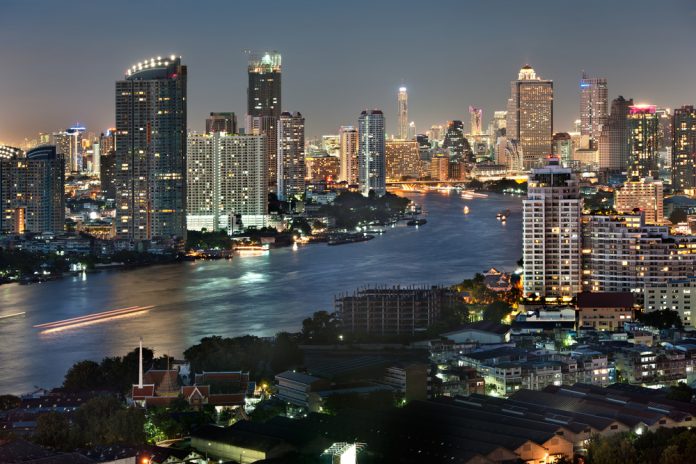 April is here and Songkran is right around the corner (again?). Not being big fans of getting drenched with water just by walking down the street we tend to hibernate for three days every year while most of the rest of the population runs around like eight year olds wasting water. We'll do the same this year, however we've heard that this year's celebration is supposed to be toned down even more than last year's. For example, we've seen reports that there's to be no water throwing on Khao San Road, usually an epicenter of craziness. So we're not sure what to expect here in Sukhumvit although it's safe to say that from the 13th to the 15th you'll probably want to be careful walking outside wearing anything you don't want to be soaked, at least in daylight hours.
From the rumor mill, albeit from a usually reliable source, we've heard that the late, lamented (by some) Hemingways restaurant is to be resurrected on Sukhumvit Soi 6 some time in the near future. We've heard a long-term lease has been or is about to be signed and that it will provide a home for the restaurant for the next 15 years (they learned their lesson the last time around). We say near future although the renovations, which will include using many if not all of the furnishings from the previous location, could take quite a while if history is any indication. The site has a Thai-style house on it and there's lots of land in this slightly out-of-the-way spot. It will be quite close to the new Q House condo going up on the corner of Soi 6 and Sukhumvit Road so that should help somewhat.
Speaking of Hemingways, the construction at their old location is now moving full speed ahead with the obligatory high fence now constructed around the property. If you want to see what they're up to just walk up the BTS steps at the Asoke station southeast side and you'll get a bird's eye view. And the businesses on Soi 11 that are going to be displaced by the new Soi 11 project will all have closed by the time you read this. At least that's the plan. We've spoken of this project a number of times before and the reason we mention it again is that this project will profoundly affect the look of Soi 11. And 20 or so businesses will be moving out all at once leaving quite a void in that part of the soi. It's going to be a major change to the look of the soi as well and we can't think of any project in the whole Sukhumvit area that's made such an impact for the last 20 years.
It's going to be interesting to see what will emerge when the wrecking balls are done and we hope to find out soon just what's planned for this space. We're betting on a condo and when we find out we'll let you know.