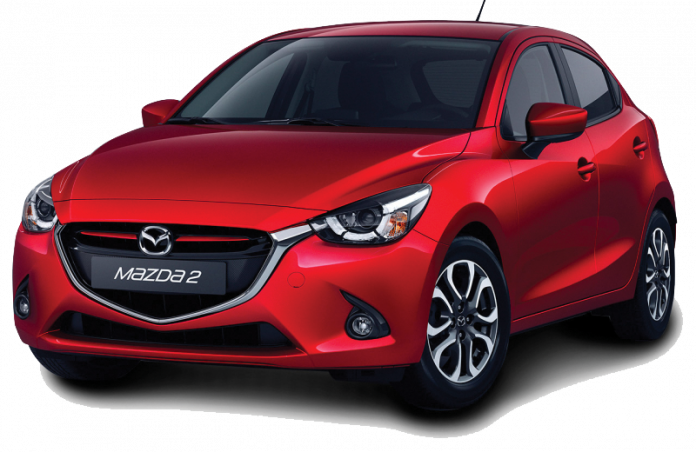 Bangkok–20 Feb–Mazda Sales
New technologies added
Napat Siangsomboon recruited as brand Ambassador
Mazda Sales (Thailand) Co. Ltd., is stimulating the Thai passenger car market once again with a second new model for this year. While the new Mazda3 was introduced in January, Mazda follows up with the launch of the new 2017 Mazda2 staged in grand style. The new Mazda2, which is expected to set new standards in the subcompact segment, bears the concept of "The Next Level of Excitement" and gets superstar Napat Siangsomboon as presenter. The Mazda2 is also the second Mazda model to be equipped with the innovative SKYACTIV-VEHICLE DYNAMICS system featuring G-VECTOING CONTROL (GVC) and added features.
Speaking at the launch event held in February, Mr. Chanchai Trakarnudomsuk, President of Mazda Sales (Thailand) Co. Ltd., said although the Thai automobile market fell by 4 per cent to 767,798 units last year, it is expected to recover in 2017 with fiercer competition among automakers, particularly in launching new models into the market. "Last year each market segment had mediocre performance, and only the pickup truck market experienced growth, with 333,415 units representing a growth of 2 per cent. The small car (B-car and Eco car) market was next with 192,518 units (down 11 per cent) and the MPV market reached 111,481 units (down 11 per cent). We can see that these thee markets combine to make a very large market, and the new Mazda2 launched today will be an important part in helping revitalize the small passenger car market once again," he said.
"The most important factor that will enable Mazda to achieve our target is the new Mazda2 launched today. It will increase customer confidence with the new standard to be set in the small passenger segment, changing customer perception. The new Mazda2 comes with the latest technologies that have never been offered in this segment such as SKYACTIV-VEHICLE DYNAMICS featuring G-VECTORING CONTROL (GVC) that improves roadholding and ride quality. This makes the Mazda2 an even better car to drive, and one that offers customers the fun-to-drive character of Mazda vehicles. We truly hope that the Mazda2 will put smiles on the face of many Thai customers," Mr. Chanchai added.
The Mazda2 has always been a core model for Mazda in Thailand, with more than 165,000 units having been sold in the country since it was first introduced in 2009. Of these, 121,000 were from the first generation and 44,000 from the second generation. The introduction of the new Mazda2 today will help Mazda achieve its 50,000-units sales target in Thailand this year and grow by 18 per cent. "The Mazda3 launched last month received tremendous customer response and we expect that the Mazda2 will also enjoy the same reaction thanks to the new technologies being offered," he said. Mazda plans to sell 27,000 units of the Mazda2 this year, an increase of 16 per cent compared to 2016, making it the largest-selling Mazda model in the Thai market.
Also speaking at the launch event, Mr. Thee Permpongpanth, Senior Marketing Director said the introduction of the new Mazda2 represents a new concept in product launching. "Mazda is a brand that is unique and we have our own way of doing things. What you see here today is a new form of product launching that corresponds with the lifestyle of our customers," he said. "Mazda customers have their own character, and they give importance to arts and modern technology. They are trendy and look for new forms of inspiration, and this is why Mazda has decided to adopt a new style of product launching to impress our customers."
The new Mazda2 comes with the latest SKYACTIV technology and new-generation 'KODO – Soul of Motion' design theme. Powertrains incudes a high-performance 1.3-litre gasoline engine and 1.5-litre clean diesel powerplant with turbocharger and intercooler. The Mazda2 is the first diesel-powered subcompact Mazda model in Thailand and boasts an outstanding fuel economy of 26.3km/liter. The car comes with a 6-speed automatic transmission, i-ACTIVSENSE safety package, new version MZD CONNECT, i-ELOOP, i-Stop and the most recent addition is G-VECTORING CONTROL.
The minor-change Mazda2 is available in both sedan and 5-dor hatchback body styles, each comprising of 7 sub-models (4 gasoline and 3 diesel). A total of 7 exterior colors are available – Soul Red, Snowflake White, Pearl White, Titanium Flash, Aluminum Metallic, Eternal Blue (new), Gray Mica (new) and Jet Black (new).
Mazda plans to cover a wide portion of the premium small passenger car market and pricing is an important factor. In order to maintain its affordability and allow customers to enjoy the outstanding Mazda2 package, the retail pricing starts at just above Bt500,000 while the range-topping model fitted with a high level of options, is priced lower than Bt800,000. This gives the new Mazda2 excellent value for money in a highly competitive market.
Mazda2 Gasoline 1.3L Hatchback & Sedan
Mazda2 Standard 530,000 THB
Mazda2 High 590,000 THB
Mazda2 High Connect 620,000 THB
Mazda2High Plus 670,000 THB
Mazda2 Clean Diesel 1.5L Hatchback & Sedan
Mazda2 XD 680,000 THB
Mazda2 XD High Connect 750,000 THB
Mazda2 XD High Plus 789,000 THB
The Mazda2 is bound to set the benchmark once again in the Thai subcompact car marker with its futuristic technologies and attractive pricing. Interested customers can visit any of the 147 Mazda showrooms in the country for test drive and booking. The Mazda2 is offered with free first-class insurance.