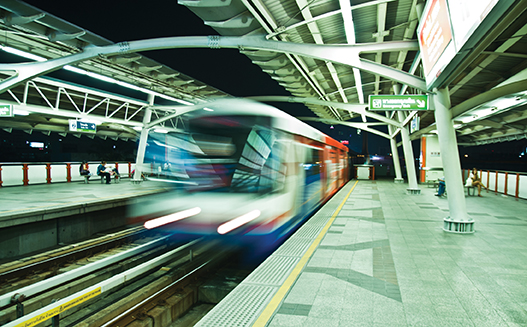 The Skytrain gets Smart
In what will be a major time saver for commuters, from the first quarter of 2017 it will be possible to avoid lining up to buy the little tokens required to access the BTS Skytrain system by using a smartphone or mobile device to pay fares.
BTS commuters will just have to swipe the barcode embedded in the Rabbit Line Pay application at the turnstile. That will signal the end of queues to get change, tokens or cards.
The CEO of BTS Group was quoted as saying, "Next year, we're going to change the entire BTS system, enabling users of Rabbit Line Pay [a function embedded in the Line app] to cover skytrain fares via smartphones or mobile devices."
Line is the most popular instant messaging platform in Thailand with more than 33 million active users.
He continued, "…you just swipe your barcode embedded in the Rabbit Line Pay application and walk through the turnstile."
All of this will be made possible because of BTS Group's majority stake in VGI Global Media Plc. Founded in 1995 with initial registered capital of one million baht, the company was intended to provide marketing and advertising services for the Bangkok Mass Transit System Plc (BTSC), which operates the skytrain.
The company' now has registered capital of 858 million baht, with 686 million baht as paid-up. VGI is currently Thailand's major provider of what are called out-of-home (OOH) media solutions, with more than 10,000 large still-image screens installed in the BTS skytrain network and in large retail stores around the country.
VGI has more than 11,000 square metres of advertising space in the product display zones of large, modern stores and around 5,000 digital screens and other types of OOH advertising at BTS stations, Tesco Lotus, Big C and Watson stores, along with large office towers throughout Bangkok.
It also holds licences to manage various forms of advertising at 13 airports operated by Airports of Thailand Plc and the Civil Aviation Department.
As well, VGI runs retail shops in 23 BTS stations, on top of radio networks covering nearly 2,000 stores in Thailand.
The road to success has not been smooth by any means. The BTS opened in 1999 but in the wake of the Asian Financial Crisis passenger numbers were less than 100,000 per day, well below the anticipated 600,000 a day. This led to almost every advertiser who had booked space with VGI asking to scrap their deals and withdraw their deposits.
When BTSC exited its rehabilitation plan in 2008 and merged with Tanayong, becoming BTS Group Holdings in 2010, the prospects for VGI grew brighter.
This decade has been one of expansion with VGI developing its lifestyle media network, mainly through active mergers and acquisitions (M&A), acquiring stakes in SET-listed Master Ad Plc, the country's largest OOH advertising company, aviation media company Aero Media, and recently Rabbit Card and its related online business.
The latest acquisition will enable VGI to enter into an e-payment business that offers Rabbit Card as a payment tool for travelling on the Skytrain and for purchasing merchandise from leading retailers nationwide.
Rabbit Line Pay will also enable users to buy goods online and from brick-and-mortar retail stores. It also lets VGI extend its services to cover online payment for Skytrain fares and retail purchases within Rabbit Card's network of merchants nationwide through their mobile devices.