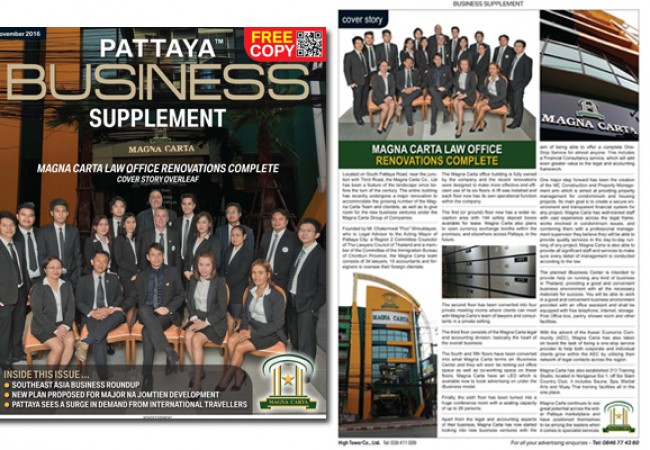 Magna Carta Law Office Renovations Complete
Located on South Pattaya Road, near the junction with Third Road, the Magna Carta Co., Ltd has been a feature of the landscape since before the turn of the century. The entire building has recently undergone a major renovation to accommodate the growing number of the Magna Carta Team and clientele, as well as to give room for the new business ventures under the Magna Carta Group of Companies.
Founded by Mr. Chalermwat "Pico" Wimuktayon, who is Legal Advisor to the Acting Mayor of Pattaya City; a Region 2 Committee Councilor of The Lawyers Council of Thailand and a member of the Committee of the Immigration Bureau of Chonburi Province, the Magna Carta team consists of 34 lawyers, 10 accountants and foreigners to oversee their foreign clientele.
The Magna Carta office building is fully owned by the company and the recent renovations were designed to make more effective and efficient use of its six floors. A lift was installed and each floor now has its own operational function within the company.
The first (or ground) floor now has a wider reception area with 144 safety deposit boxes available for lease. Magna Carta also plans to open currency exchange booths within the premises, and elsewhere across Pattaya, in the future.
The second floor has been converted into four private meeting rooms where clients can meet with Magna Carta's team of lawyers and consultants in a private setting.
The third floor consists of the Magna Carta legal and accounting division; basically the heart of the overall business.
The fourth and fifth floors have been converted into what Magna Carta terms an iBusiness Center and they will soon be renting out office space as well as co-working space on these floors. Magna Carta have an LED which is available now to book advertising on under the iBusiness model.
Finally, the sixth floor has been turned into a huge conference room with a seating capacity of up to 26 persons.
Apart from the legal and accounting aspects of their business, Magna Carta has now started looking into new business ventures with the aim of being able to offer a complete One-Stop Service for almost anyone. This includes a Financial Consultancy service, which will add even greater value to the legal and accounting framework.
One major step forward has been the creation of the MC Construction and Property Management arm which is aimed at providing property management for condominium and housing projects. Its main goal is to create a secure environment and transparent financial system for any project. Magna Carta has well-trained staff with vast experience across the legal frameworks involved in condominium issues, and combining them with a professional management supervisor they believe they will be able to provide quality services in the day-to-day running of any project. Magna Carta is also able to provide all significant staff and services to make sure every detail of management is conducted according to the law.
The planned iBusiness Center is intended to provide help on running any kind of business in Thailand, providing a good and convenient business environment with all the necessary materials for success. You will be able to work in a good and convenient business environment provided with an office assistant and shall be equipped with free telephone, internet, storage, Post Office box, pantry, shower room and other facilities.
With the advent of the Asean Economic Community (AEC), Magna Carta has also taken on board the task of being a one-stop service provider to help both corporate and individual clients grow within the AEC by utilising their network of legal contacts across the region.
Magna Carta has also established 313 Training Studio, located in Nongprue Soi 1, off Soi Siam Country Club. It includes Sauna, Spa, Martial Arts and Muay Thai training facilities all in the one place.
Magna Carta continues to see great potential across the wider Pattaya marketplace and have positioned themselves to be among the leaders when it comes to specialist services.