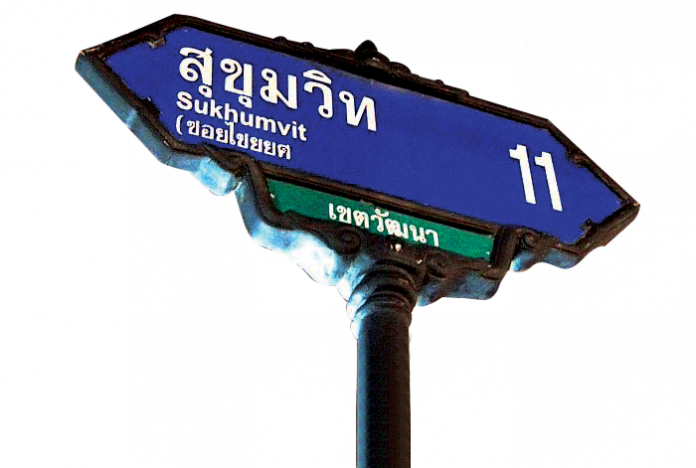 SUKHUMVIT NEWS
The never-ending construction project known as the Sukhumvit area is seeing some strange developments lately as the Soi 12 lot that has been empty of most businesses for about a year now – except Insanity and the V8 Diner – is undergoing some changes. The above-mentioned businesses were allegedly supposed to close and leave the site the same time as the rest of the businesses that once lined the perimeter of the space but for they are still there. It has been said the space is due to be developed as a 32-storey office building with American Express as the anchor tenant.
As of now the remaining structures that were still on the lot have been razed, leaving Insanity and the V8 Diner as the last men standing. No one knows for how much longer.
In the meantime Chuwit Park is still closed and there certainly aren't any renovations going on there. We still think Chuwit's trying to sell this piece of highly desirable property and the price tag will include many zeroes in it judging by the recent sale of the parcel on Soi 11 – one rai for about US$55 million. Yes, that's right – dollars not baht. We can only guess what the massage parlor magnate's park is worth since it appears to be at least three rai (about one acre).
Soi 4 is getting into the development act too, with the big hotel project we mentioned last month going up on the corner of Soi 6, and now the Rajah complex development. The hotel is reportedly going through a rather extensive renovation, including the rooms, and there is a four-five-storey structure being built in what used to be the parking lot, and Strikers Sports Bar. The building will contain some sort of retail spaces (just what we need – more shopping) as well as some restaurant/bar spaces. We think it will be at least two years before anything opens there. What is surprising to us, we've been told that Hillary 1 closed very recently. It's part of the whole Rajah complex and we're not sure if it's closed for good or is just going through a renovation like the rest of the complex. We'll find out and let you know next month.
And speaking of Strikers, they'll be opening up just down the road soon in the Nana Hotel complex. They'll be located in a big space (about 450 square metres) on the second floor of the parking garage at the back of the hotel's parking lot. Look for them to be opening their doors in a few weeks or so, or maybe sooner, since it's often hard to estimate construction times here.
See you next month with info on what's happening on Soi 5 along with a progress report on other big projects in the area.