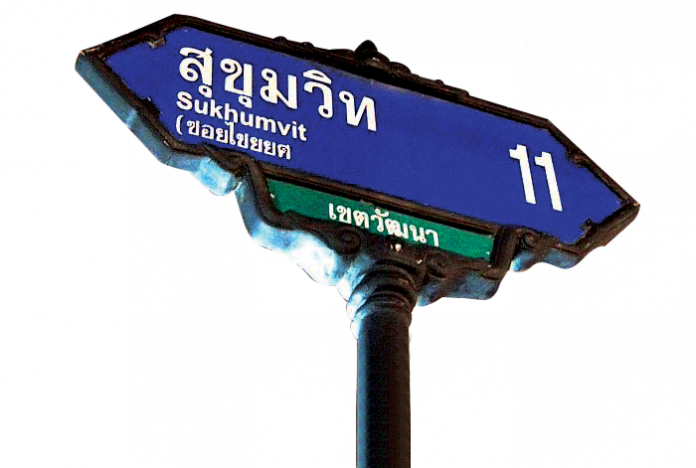 SUKHUMVIT AREA NEWS
As it has been for the last several years now, there are quite a few new developments in our little part of the world and it doesn't look like this is about to change any time in the near future either. People continue to build, tear down and change the landscape here with what seems like a frantic pace.
Our first item of news concerns the block on Soi 11 that houses about 20 businesses, including Cheap Charlie's and the row of restaurants and bars around the back of this little sub-soi that is actually all private land. Well the owners of this land apparently decided they wanted to cash in and sold the whole parcel to a development company. We're not sure who exactly the developers are but they have a lot of money because they paid a whopping two billion baht for this land, which is about a rai in size, making the square wah cost five million baht. This was the reported price, anyway. To put it into perspective, the highest price reported for a land sale previously in this area was 1.8 million baht per square wah for the land on the corner of Soi 6 where Q House is building a 42-storey condo with 293 units. The lowest priced condo in this building is $800,000 U.S. Now you know why.
This trend will almost certainly continue and we wouldn't be surprised if our favourite massage parlour owner's land on Sukhumvit Road might be next. That's Khun Chuwit, by the way, and his park between Sois 8 and 10 has been closed for renovations, according to the sign out front, since early in June. However, since it doesn't seem like there are any renovations taking place we think that he may be in the process of trying to sell the land instead. Since it's quite a bit bigger than the Soi 11 parcel and is on the main road the price tag will end up being considerably more if and when it's ever sold.
The land between Sois 5 and 7 right on Sukhumvit, long the subject of conjecture as to its future, is finally seeing some signs of activity. As you may know, the passageway known as the Tunnel and the businesses along it was demolished a while back and just recently the first business along Sukhumvit was booted out, that being the venerable Check Inn 99. Others will probably follow and the fate of the entire piece of land may finally be known. Speculation, as usual, centres around either a hotel or condo although nothing to date has been confirmed.
Condo development continues unabated and as far as anyone can tell, will continue to do so since the economics of real estate demand that single storey and low-rise buildings cannot survive in an area of astronomical land prices. At least they seem astronomical now. Wait for five years and then see what they seem like. Our guess is that the current real estate that's being sold will look like a bargain.