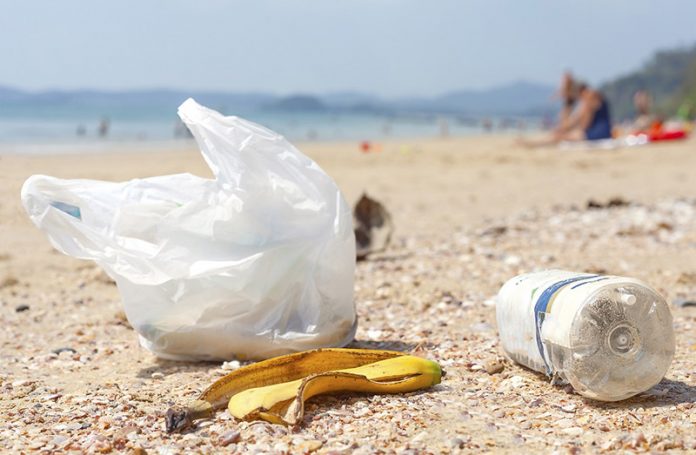 Up to 40 different retail chains including Foodland, Big C, Robinsons, Tesco Lotus, Tops, Watsons, Central Group and Makro, have agreed with the Mineral Resources Department to stop issuing plastic carrier bags on the 4th of each month, urging shoppers instead to bring their own fabric or textile reusable shopping bags with them.
The idea is to both reduce plastic carrier bag use in real terms and also to raise awareness of plastic waste issues, already highlighted in shocking video clips of oceanic beauty spots covered with plastic garbage.
To give an idea of the scale of the problem, Tops Supermarket alone typically issues around 200 million plastic carrier bags each year, but aims to cut this number significantly.
However critics of the scheme suggested that plastic carrier bags were generously provided by some stores on all other days and that the ban should be in force every day, not only on the 4th of the month.
Also of note is that plastic carrier bags are by no means the only source of plastic waste. Various food items are often overburdened with plastics. For example some manufactures of cookies individually wrap each cookie in a plastic wrapper, place them in a throwaway plastic tray then wrap the tray and packaged biscuits in another plastic wrapper. All this plastic waste is forced on buyers before even a single carrier bag is provided. Plenty of other similar examples can be found.
It might be a good move for supermarket chainsto take more responsibility toscrutinize the amount plastic packaging of products that they sell and refuse to stock over-packaged goods.In the meantime, the no-plastic carrier bag day on the 4th of each month is a good start on what might ultimately turn out to be a long road ahead.
IPO's still buoyant on the SET
Shares of Initial public offerings (IPO's) on the Stock Exchange of Thailand (SET) have generally done well with a majority of them posting higher prices after the first day of trading compared to the subscription price. Also in the short to medium term they have averaged a return of twenty percent more than the SET index. In recent months just 8 out of 42 IPO's have seen lower prices after the first day of trading but this has been put down to current market volatility that might be short lived.Senior executive vice-president and head of the corporate strategy division at the SET, Soraphol Tulayasathien, was quoted as saying, "IPO shares are not outdated or going through a downward trend. The stock market experienced volatility during the past two months, [contributing] to IPO prices closing lower [than the share subscription price]," adding, "This market condition is expected to last for a short period."Overall, Thailand's stock market has out-performed many regional markets this year.
Pratamnak Well Resort Pattaya due to open in 2019
Well Hotels & Resorts has announced that it will manage the new Pratamnak Well Resort Pattaya, which is due to open in the second half of 2019.
The resort will comprise 78 rooms and will have a range of business facilities to cover meetings, incentives, conventions and exhibition (Mice) requirements.
President and chief executive at Well Hotels & Resorts,
Danai Wansom, was quoted as saying, "As Thailand is moving forward with developing infrastructure in the EEC, we foresee that tourism and Mice will be on the rise in this region," adding, "We are very excited to be a part of this new project. Our team understands the needs of leisure and meeting groups in the Pattaya area and is committed to going beyond meeting those needs to provide consistent value added services to this project."