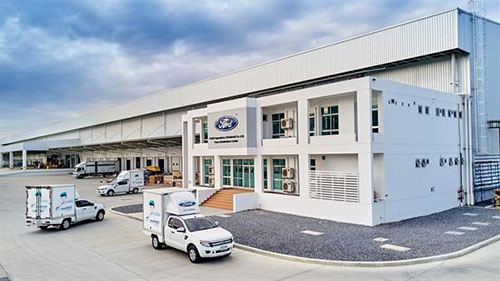 http://www.thailand4.com/.auto/2017-11-03/cc9f3d95c7fb97b0a2718fe4a3ec4523/
Automotive Press Releases Friday November 3, 2017 15:39
Bangkok–3 Nov–Hill Knowlton Strategies
Ford Motor Company recently announced the official opening of a new 100 million baht ($3 million) Parts Distribution Center (PDC) in Bangna-Trad to help support the company's servicing of customer vehicles nationwide more efficiently and effectively as Ford's growth continues in the market.
Leveraging advanced technology, including Ford's proprietary PANDA Warehouse Management System (WMS), the new PDC has full access to Ford's parts inventory across all 9 Asia-Pacific markets to locate and retrieve part, enhancing the availability of any service part needed.
Boasting a modern, rectangular design that fully optimizes the PDC's operational area for logistics efficiency, the new facility stocks over two million pieces of parts and over 38,000 SKUs within its 26,000 square-meter storage space. The area can be extended to 79,000 square-meters in the future to support growth.
The PDC optimizes parts storage and distribution to Ford's rapidly growing nationwide dealer network and the fast increasing customer base that they serve.
"This new Parts Distribution Center further enhances our ability to efficiently service customer vehicles at Ford dealerships across the country by storing a vast amount of parts that are required for both preventive maintenance and general repairs and service for all models," said Narong Sritalayon, deputy managing director, Ford Thailand.
"Being fully integrated into our Asia Pacific parts inventory network helps ensure the seamless delivery of any required parts," added Narong.
Enhanced design features of the new PDC additionally include a 9-meter-high selective racking system, multi-level mezzanine to enable efficient storage across the bin shelf and optimal facility floor space, providing quick access to spare parts.
Multiple loading docks across the facility enable a consistent flow of trucks and containers that keep the new PDC fully stocked and able to meet customer demand both in Thailand and throughout the ASEAN region.
The design ensures maximum operational efficiency with minimum environmental impact with the use of LED lighting and skylight roofing, and solar panels to support power to the office space to reduce electric consumption.
"This new PDC is part of an overall commitment to providing a world-class, holistic ownership experience which includes excellence in aftersales service," explained Narong.