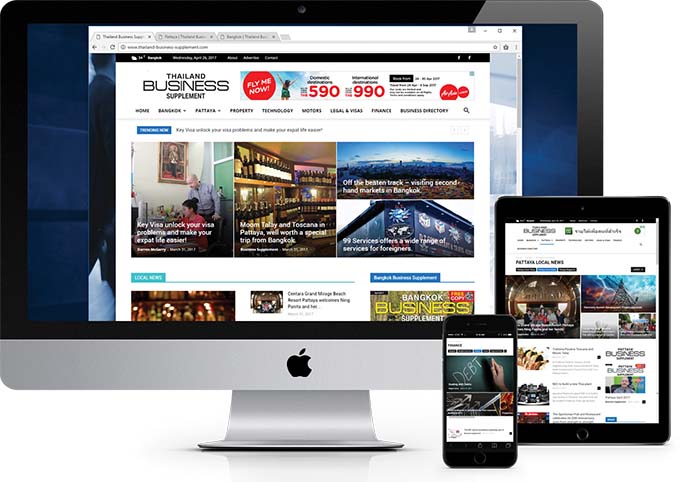 Thailand Business Supplement – Bangkok and Pattaya editions – has radically revamped its website to provide a new user experience.
Previously it was a portal focused on providing an online version of the magazine by a simple flipbook, as well as categorised text articles.
Now both the Bangkok and Pattaya versions of the magazine are available online by way of a whole new interface that gives it a fresh new look.
The Flipbook is now just one part of the new website since it has been uprated to include articles available on the webpage as well as images to go with them, whereas previously they were text only and available only by category listings.
Thus the webpage is a graphic rich reader experience as well as a gateway to the online versions of the magazines.
Also built into the new website are Facebook and Twitter feeds so that you can keep connected to your social media channels and share stories and articles.
3 URLs are now available for access to the magazines. By logging on to www.Thailand-Business-Supplement.com you can select from the menu to access either the Pattaya Business Supplement or the Bangkok Business Supplement to view the content of that edition.
Or you can also just visit directly www.Bangkok-Business-Supplement.com or www.Pattaya-Business-Supplement.com to go directly to whichever magazine you want. These were set up so that you can easily recall your favorite edition and get the latest magazine directly.
The main website at www.Thailand-Business-Supplement.com features sections for health, finance and other topics and sports a multiple column layout. Also it has a trending bar at the top so that you can see the trending news stories at a glance.
At the base of the page is an editor's picks section that gives you access to local events and announcements that the editor has highlighted as the best news of the month.
Also available on all the web portals are access to back issues and selected articles from recent publications, up to date weather information and up to the minute exchange rates for the Thai Baht to various currencies.
A menu bar at the top gives you instant access to subject matter such as direct links to property, finance, technology or cars and automobile news and articles.
All the website is super fast loading and advertising features the main display adverts in the printed editions, and readers will likely find useful advertisers' services offered in keeping with some of the articles that are published in the magazine.
It is well worth visiting the website and choosing the edition that is most preferred with a view to bookmarking it for the future visits so that you can gain access to all the online content and enjoy the website experience that has been carefully designed for maximum ease of use.
For more information relating to www.Thailand-Business-Supplement.com contact Ben at 0846 77 43 60; email: [email protected]